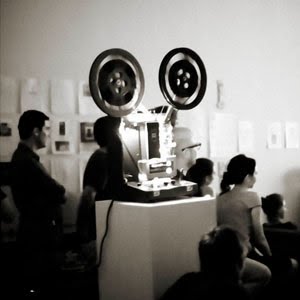 Here is a compilation of great documentaries, compiled by DGR activists, that have inspired & taught us.
If you know of more good radical movies, please help us add them to this list by emailing us at eumena@deepgreenresistance.org
Note there is a section at the end of this page on Organizing Film Screenings, with a few useful tips about how to host these & get the maximum benefit from their consciousness-raising potential.
Film Lists
Deep Green Resistance IMDB movie lists
Deep Green Resistance Youtube Channel
Films for Action – a selection of less radical, more varied movies & shorts
Films
Ruth Buendía: 2014 Goldman Environmental Prize, Peru
Overcoming a history of traumatic violence, Ruth Buendía united the Asháninka people in a powerful campaign against large-scale dams that would have once again uprooted indigenous communities still recovering from Peru's civil war.
She is the South & Central America winner of the 2014 Goldman Environmental Prize, the world's largest recognition for grassroots environmental activists.
Story of a Sacred Mountain
What will one tribe have to do to save everything they know?
Mine, narrated by Joanna Lumley, tells the story of the remote Dongria Kondh tribe's struggle to protect Niyamgiri, the mountain they worship as a God. London-based mining company Vedanta Resources plans a vast open-pit bauxite mine in India's Niyamgiri hills, and the Dongria Kondh know that means the destruction of their forests, their way of life, and their mountain God.
Updates: The Dongria Kondh tribe stopped Vedanta from mining their sacred mountain, but now faces other threats.
The Coconut Revolution
Resistance Movie
Bougainville, with a populations of only 160,000 has managed to close and keep closed one of the biggest mines in the world. They have held their ground for a decade with antique weapons and home-made guns. These people have taken on the biggest mining company in the world and won.
A great movie for DGR screenings, this movie tells a story about a successful militant eco-revolution. A very short movie (50 min), a lot of fun to watch and is very direct in getting the point across.
Read more at Wikipedia or at Top Documentary Films.
Sweet Crude
Resistance Movie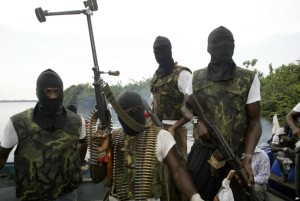 Sweet Crude is the story of Nigeria's Niger Delta – the human and environmental consequences of 50 years of oil extraction and the members of a new insurgency who, in the three years after the filmmakers met them as college students, became the young men of the Movement for the Emancipation of the Niger Delta (MEND). Set against a stunning backdrop of Niger Delta footage, the film shows the humanity behind the statistics and sensationalized media portrayal of the region, gives voice to a complex mix of stakeholders and invites the audience to learn the deeper story.
The oil corporations occupied Nigeria to extract oil, poisoned and degraded their enviroment, and made the people poor and miserable. The federal goverment collaborated in oppressing the people. The leaders of peaceful protests were executed and the army shot at children and women. This movie is a story about what created the ground for the founding of MEND. A great movie for DGR screenings, it shows that those in power will do whatever it takes to extract oil and that a militant resistance is a successful strategy against them.
END:CIV
Environmental Crisis Movie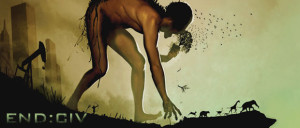 END:CIV examines our culture's addiction to systematic violence and environmental exploitation, and probes the resulting epidemic of poisoned landscapes and shell-shocked nations. Based in part on Endgame, the best-selling book by Derrick Jensen, END:CIV asks: "If your homeland was invaded by aliens who cut down the forests, poisoned the water and air, and contaminated the food supply, would you resist?"
The film's editing could have been better, but otherwise it does a pretty good job of presenting environmental issues and Derrick Jensen`s message: We are out of time and out of species. We need to become more open to more militant forms of resistance becase those in power will not stop killing the planet just because we ask nicely.
Occupied Cascadia
Occupied Cascadia is a documentary film both journalistic and expressionistic. Exploring the emerging understanding of bioregionalism within the lands and waters of the Northeast Pacific Rim, the filmmakers interweave intimate landscape portraits with human voices both ideological and indigenous. Stories from the land contrast critique of dominant culture, while an embrace of the radical unknown informs a re-birthed and growing culture of resistance. Filming began during the outset of the populist "Occupy" movement, and finished by joining the voices seeking to re-contextualize popular revolt within our life-world as a movement to decolonize, un-occupy, and re-inhabit the living Earth through deep understanding and identification with our specific bioregions (literally "Life-Place").
The Crisis of Civilization
The Crisis of Civilization is a remix documentary feature film investigating how global crises like ecological disaster, financial meltdown, dwindling oil reserves, terrorism and food shortages are converging symptoms of a single, failed global system.
Iron Jawed Angels
Iron Jawed Angels is a 2004 American drama film. It was directed by Katja von Garnier and starred Hilary Swank as suffragist leader Alice Paul, Frances O'Connor as activist Lucy Burns, Julia Ormond as Inez Milholland, and Anjelica Huston. It focuses on the American women's suffrage movement during the 1910s.
Pray the Devil Back to Hell
The award-winning documentary Pray the Devil Back to Hell chronicles the remarkable story of the Liberian women who came together to end a bloody civil war and bring peace to their country. A dialogue and question-and-answer session with Gini Reticker and Dr. Elizabeth Sackler follows the screening. Presented in conjunction with the U.S. National Committee for UNIFEM, Metro NY Chapter. This event took place in the Iris and B. Gerald Cantor Auditorium on December 13, 2009.
View an interview with the director.
Arctic Emergency: Scientists Speak on Global Warming
This film brings you the voices of climate scientists – in their own words.
Rising temperatures in the Arctic are contributing the melting sea ice, thawing permafrost, and destabilization of a system that has been called "Earth's Air Conditioner".
Global warming is here and is impacting weather patterns, natural systems, and human life around the world – and the Arctic is central to these impacts.
The White Dawn
Colonization in North America
The White Dawn is a Canadian film, released in 1974, directed by Philip Kaufman and starring Warren Oates, Timothy Bottoms, and Louis Gossett, Jr. It portrays the conflict between aboriginal peoples' traditional way of life and Europeans' eagerness to take advantage of them. The film employs authentic Inuit dialect, which adds to the overall realism. It is based on the 1971 novel, The White Dawn: An Eskimo Saga, by James Archibald Houston, who co-wrote the screenplay.
Bury My Heart at Wounded Knee
Colonization in North America
Bury My Heart at Wounded Knee is a 2007 television film adapted from the book of the same name by Dee Brown. The film was written by Daniel Giat, directed by Yves Simoneau and produced by HBO Films. The book on which the movie is based is a history of Native Americans in the American West in the 1860s and 1870s, focusing upon the transition from traditional ways of living to living on reservations and their treatment during that period. The title of the film and the book is taken from a line in the Stephen Vincent Benet poem "American Names." It was shot in Calgary, Alberta, Canada.
Into the West
Colonization in North America
Into the West is a 2005 miniseries produced by Steven Spielberg and DreamWorks, with six two-hour episodes. The series was first broadcast in the U.S. on Turner Network Television (TNT) on six Fridays starting on 10 June 2005. It was also shown in the UK on BBC2 and BBC HD from 4 November 2006, and in Canada on CBC Television. The series also aired in the U.S. on AMC during the summer (June/July) and fall (autumn, September/October) of 2012.
The miniseries begins in the 1820s and is told mainly through the third person narration of Jacob Wheeler (Matthew Settle) and Loved By the Buffalo (Joseph M. Marshall III), although episodes outside the direct observation of both protagonists are also shown. The plot follows the story of two families, one white American, one Native American, as their lives become mingled through the momentous events of American expansion. The story intertwines real and fictional characters and events spanning the period of expansion of the United States in the American West, from 1825 to 1890.
Organizing Film Screenings
Organizing film screenings is one of the easiest ways we can inspire, radicalize & change minds of even large groups of people, especially if we make sure there are good opportunities for processing the often very emotive content of these stories.
Time to Think
For example by making sure everyone gets un-interrupted 'thinking aloud' time before sharing in the bigger group, by using Think & Listens either in pairs or small groups of 3, or at most 4 people. This helps to avoid the common 'two or three people taking over the discussion' that often happens in groups, if they are not facilitated well, especially if people have just been exposed to some disturbing new or challenging views. We all need time to think. One of the best services we can provide each other is relaxed non-judgemental attention whilst we unravel our feelings & thoughts about new or difficult questions.
It is useful to follow the Think & Listens with one or more circles (giving everyone a time to speak, in turn), where everyone is invited to briefly say what they think, but without going into a discussion.
If the film is quite long, it is useful to make breaks for these 'processing times'.
Discussion Time
A free for all discussion, if you want to have one (not necessary, especially if you want to provide as low-stress event as possible – but judge your audience) is most useful when everyone has had enough good quality thinking time – this ensures that the discussion is more likely to be productive for everyone, and that we are less likely to have to listen at length from the emotional reactions of whoever has least fear of speaking up in a group!
Don't be afraid to interrupt people who don't seem to be aware that there are others who may well also have opinions, or who are agressive in putting their points across. You can do this kindly by saying something like "thanks, I'd like to hear from people who haven't spoken yet". Also you can use a more formal rule of "no-one speaks twice until everyone has spoken once", & so on (three times until all spoken twice, etc.).
You can best facilitate in a relexed way if your honest agenda is to help raise conciousness by exposing people to new ideas, & providing safe spaces for thinking.
As a facilitator of such an event you have to be aware that this is a process that different people are at different stages of at any one time, and pushing any views at people doesn't usually help in changing consciousness. It can also have the opposite effect. People ultimately only commit to positions they themselves have arrived at, by doing their own thinking.
Time to Socialize
Making sure people are also welcomed well & introduced to everyone is basic 'hosting' or facilitation work. This can be done easily by starting the meeting with a quick 'go round' and you can use even late-comers as an excuse to do the go-round again (often people won't remember lots of names just on one telling).
You can ask that each person says just their name & where they're from + how they heard of the event. You can ask them to add whatever they want to say about themselves, but ensure they keep it short & don't 'take over' time-wise.
Of course it's important to have breaks where people can stretch, use the toilet & get something to eat or drink (depending on the venue & your group, if you ask everyone to bring food to share it becomes more of a party!) + chat informally with others, so that people have plenty of opportunities to make new friends, also. This is most useful after doing more formal introductions.
It's very useful to have a 'tidy ending' to the event (before socializing afterwards) by doing a 'closing circle' where you ask people to repeat their name, say something new they learned from the screening, something they liked, something that could be done better next time.
Take Notes
Evaluate the event so you can design an even better one next time!